The Fountain of Time - Chicago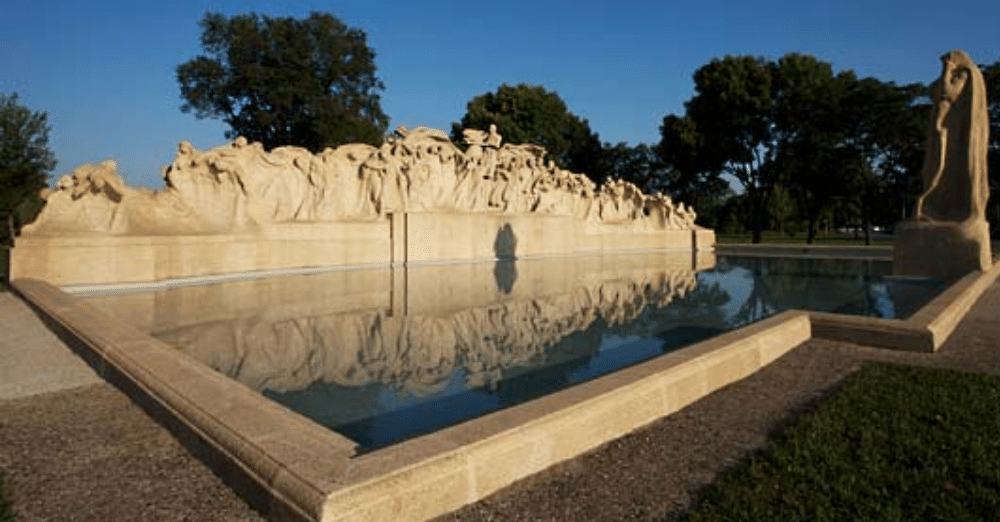 Fountain of Time, or simply Time, is a sculpture by Lorado Taft, measuring 126 feet 10 inches (38.66 m) in length, situated at the western edge of the Midway Plaisance in Washington Park in Chicago, Illinois. This location is in the Washington Park community area on Chicago's South Side. Inspired by Henry Austin Dobson's poem "Paradox of Time", and with its 100 figures passing before Father Time, the work was created as a monument to the first 100 years of peace between the United States and the United Kingdom, resulting from the Treaty of Ghent in 1814.
Although the fountain's water began running in 1920, the sculpture was not dedicated to the city until 1922. The sculpture is a contributing structure to the Washington Park United States Registered Historic District, which is a National Register of Historic Places listing. (Wikipedia)
Part of a larger beautification plan for the Midway Plaisance, Time was constructed from a new type of molded, steel-reinforced concrete that was claimed to be more durable and cheaper than alternatives. It was said to be the first of any kind of finished work of art made of concrete.
1 / 9
The Fountain of Time Chicago
2 / 9
The Fountain of Time Chicago
3 / 9
The Fountain of Time Chicago
4 / 9
The Fountain of Time Chicago
5 / 9
The Fountain of Time Chicago
6 / 9
The Fountain of Time Chicago
7 / 9
The Fountain of Time Chicago
8 / 9
The Fountain of Time Chicago
9 / 9
The Fountain of Time Chicago
❮
❯